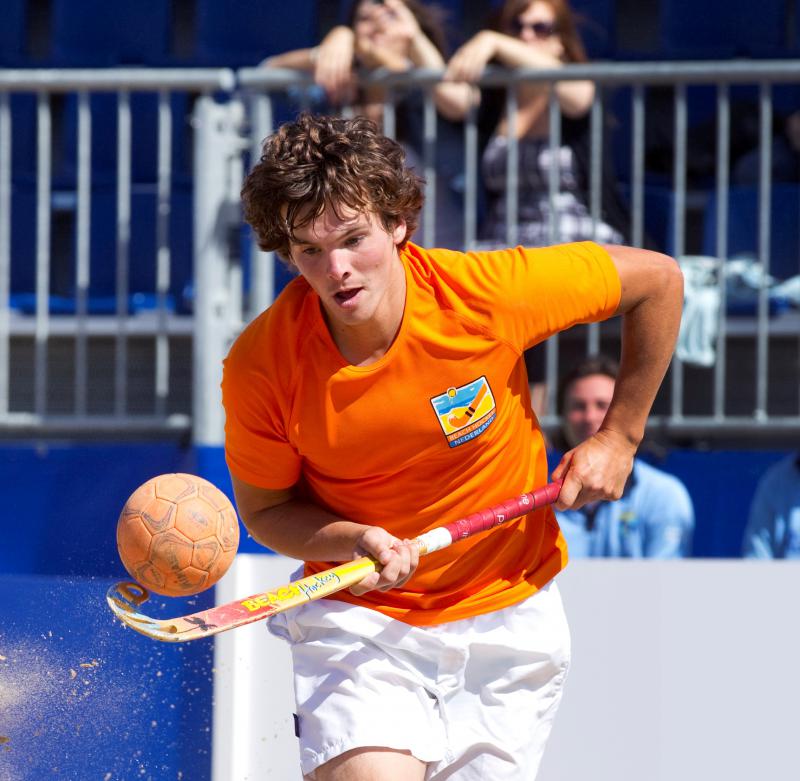 First-ever-world-cup-beach-hockey-festival
Saturday 20 Sep at 13:26
Playing hockey in sand might seem like an impossible task. But if you've ever watched a game of beach hockey or had a go yourself, then you will know it is a tough sport in itself. From June 12 to June 14, the first ever festival for beach hockey is taking place in The Hague Beach Stadium – a must see for all hockey fans.
In the air
A couple of German lads are practising at the Beach Stadium at the Dutch seaside resort of Scheveningen. The game involves a bigger, lighter ball and special sticks and looks spectacular. It is the first time Paul Kaufmann and Samuel Holzhauser, both 18, have played the game. "We've come from Mannheim and there is no beach there," says Paul. "Luckily we've got the technical skills because you really need them. Beach hockey is all about technique." Teammate Samuel adds: "That's what makes it such fun. But it is also seriously heavy work. There is a reason why a match only lasts a few minutes."
A beach hockey team is made up of five players and an official match lasts 2x12 minutes. Beach hockey players run in their bare feet. The difficult playing surface adds a new dimension to the game and provides a real test of the players' individual skills and teamwork. The ball is in the air for much of the game – creating spectacular airborne tackles and dribbles and acrobatic displays from the keepers. On average there are 30 shots at goal in a beach hockey match, so plenty of action is guaranteed.
A group of German women from hockey club St. Pauli in Hamburg agree. They think beach hockey a lot more intense than the game on grass. "We've been playing beach hockey for six years but we really only play once a year at a local tournament, so we still have to get used to it again," says Vanessa Schmoranzer. The team, made up of old hands, are taking part for fun. "Of course, secretly we really hope to take home gold," Schmoranzer says. "You never lose your will to win."
Everyone welcome
The official start of the World Beach Hockey Festival is at 14.00 on Friday after which the first qualification matches will be played. The finals take place on Saturday June 14. You can also just come along and have a go. A number of practise pitches have been laid out and sticks and ball are available for all-comers. The tournament ends with a massive beach party. Everyone is welcome.
Source: FIH